2020
2020 marked a year of departure from the typical ACHANGE meeting format, as the organization faced a year dominated by the COVID pandemic. In spite of this, found a way to provide a training opportunity for members via webinar.
July 9 — ACHANGE partnered with the Arkansas Bankers Association to provide Housing Conversations: 2020 Vision for Affordable Housing. This webinar featured nationally known author and speaker Dr. Andre Perry of the Brookings Institution! Dr. Perry is also a scholar-in-residence at American University, and a columnist for the Hechinger Report. His research focuses on race and structural inequality, education, and economic inclusion. Perry's recent scholarship at Brookings has analyzed Black-majority cities and institutions in America, focusing on valuable assets worthy of increased investment. He is the author of Know Your Price: Valuing Black Lives and Property in America's Black Cities.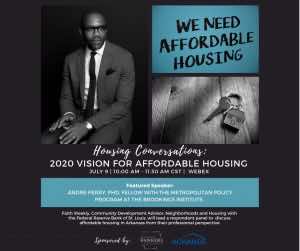 Dr. Perry's remarks were followed by a panel discussion facilitated by Faith Weekly, Community Development Advisor for Neighborhoods and Housing with the Federal Reserve Bank of St. Louis, Eighth District. The current landscape in the state was discussed by three panelists who work with Arkansans on housing-related issues: Kendell Lewellen, Gerald Turner, and Leon Jones. Kendell Lewellen is Managing Attorney with the Center for Arkansas Legal Services, managing the Center's Fort Smith and Russellville offices as well as performing housing advocacy across forty-four Arkansas counties. Her work currently focuses on helping Arkansans maintain stable housing during COVID-19. Gerald Turner is the CEO of the HEAL Collective and has extensive experience in the areas of community, economic and real estate development, having managed and developed over 2,000 units of housing totaling $650 million in value for various public, private and non-profit corporations.  He has focused extensively on real estate development initiatives to spur the creation and retention of jobs and reconnecting neighborhoods to educational, commercial, workplace and health services. Leon Jones, the Executive Director of the Arkansas Fair Housing Commission, serves on several boards and commissions including the Arkansas Housing Trust Fund. He is a past Commissioner of the Arkansas Fair Housing Commission and the Fayetteville Housing Authority.
2019
March 29 — ACHANGE held its annual lunch meeting which included elections of Officers and Board members. The program included Stephanie Nichols of the Housing Assistance Center, Sara Oliver of Housing Arkansas, and Roby Brock on the Arkansas Legislature.
July 30 — ACHANGE provided two webinars for participants interested in learning about the housing development process, each produced by Incremental Development Associates. One webinar was directed at individuals and nonprofits who wish to create housing developments; the other was for members of the affordable housing ecosystem: banks, mortgage companies, local government staff and elected officials, who want to encourage the creation of housing developments on a small (incremental) scale in their communities.
The webinar for housing developers can be viewed at https://zoom.us/recording/share/JTQMruLl9_Vq602k7AL4csM6UD6LcD8BNMOiCdBW81awIumekTziMw?startTime=1564513272000
The webinar for the affordable housing ecosystem can be viewed at
https://zoom.us/recording/share/k_xX2PvY3XWLJ9C2SNsH15g3Np2wafc4qcFXAmrXttiwIumekTziMw?startTime=1564499369000
---
2018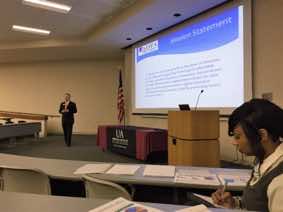 February 23 — ACHANGE held its first convening of the year. The Arkansas Development Finance Authority (ADFA) introduced new programs and changes to existing programs.
June 22 — In honor of National Homeownership Month, ACHANGE presented Housing in Arkansas: Markets, Affordability, and Policy. Speakers included Victoria Bourret, Housing Advocacy Organizer with NLIHC, Dr. Michael Pakko, State Economic Forecaster of AEDI, Doug Ryan, Director of Affordable Home Ownership at Prosperity Now, and a panel of legislators.
September 14 — ACHANGE partnered with the Arkansas Housing and Urban Development (HUD) to bring representatives of HUD's Denver Homeownership Center to Arkansas to address becoming a HUD certified housing counseling agency and how to maintain certification.
ACHANGE became a member of the National Low Income Housing Coalition and participates in their conversations concerning affordable rental housing.