Housing Conversations: Economics, Equity, and Access for Affordable Housing

Thursday, July 22, 2021 – 10:00 a.m. – 12:00 p.m.
ACHANGE and the Arkansas Bankers Association invite you to attend a special webinar focusing on affordable housing in Arkansas today.
About the Webinar
The Arkansas Coalition of Housing and Neighborhood Growth for Empowerment (ACHANGE) is hosting a virtual session about the current Arkansas economic realities affecting affordable housing on Thursday, July 22, 2021 at 10 a.m. Discussion will center on economic opportunities and challenges in developing affordable housing in the current environment.
Marshall Crawford, Chief Executive Officer of The Housing Fund, is the scheduled keynote speaker. Respondent panels will be led by Faith Weekly, Community Development Advisor for Neighborhoods and Housing with the Federal Reserve Bank of St. Louis, and Gloria Reynolds, Community Affairs Specialist for Arkansas & Tennessee with the Federal Deposit Insurance Corporation Department of Depositor and Consumer Protection, Dallas Region.
ACHANGE launched its topical convenings Housing Conversations in 2018 to address emerging issues related to affordable housing. During 2021 the theme is Housing Conversations: Economics, Equity, and Access, focusing on the current economic environment for developing, renovating, and acquiring affordable housing. The July 22, 2021 session addresses the impact the pandemic is having on affordable housing; its funding and current cost environment, including historic low interest rates; the current seller's market, availability of affordable purchase options, and housing production cost increases. How do these factors affect the industry and the market for affordable single family and multifamily homes?
The event is made possible through a partnership with the Arkansas Bankers Association.
Speakers
Keynote
Marshall E. Crawford, Jr., MPA
President & Chief Executive Officer, The Housing Fund
In 2017, Marshall joined The Housing Fund, a CDFI private nonprofit revolving loan fund located in Nashville, TN. As President & CEO, he carries the full range of responsibilities typically associated with such a position. Reporting to the board of directors, his responsibilities are grouped in five major areas: organization leadership and management, strategic planning, resource development, management of loan portfolio and lending operations and community external relations. Marshall's leadership also ensures support for community building and housing development to residents to ensure the revitalization of communities.
Since returning to Nashville, Marshall has accumulated several accolades. In consecutive years, Marshall has been recognized as one of Nashville's Most Admired CEOs by his peers and the Nashville Business Journal. In 2019, he was installed into the Tennessee Affordable Housing Coalition Hall of Fame for his efforts in affordable housing over the last 20 years. In 2018, he was featured on the cover of the Nashville Post BOOM! Magazine for establishing Nashville's first community land trust model as a solution to addressing a growing affordable housing issue in the city. Also, he is a participant of Leadership Tennessee 2021.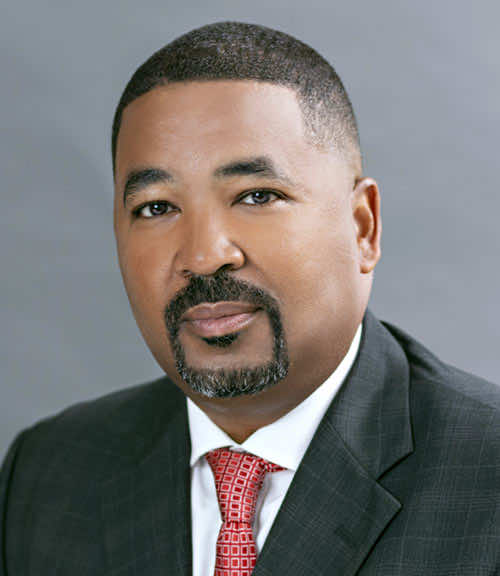 Previously, he served as President of Housing and Multifamily Development for Community Ventures in Lexington, KY. Also, he spent 13 years at NeighborWorks America in various roles in the Southern Region located in Atlanta, GA.
Before joining NeighborWorks, Marshall was a safety and soundness bank examiner for the Office of Thrift Supervision. His banking career started in a management training program for Third National Bank (eventually, SunTrust Bank) in Nashville, Tennessee. He later relocated to Atlanta, GA and worked as a mortgage loan officer with several banks. In 1992, he was honorable discharged from the United States Army after serving five years while being stationed in Germany and at Fort Knox, KY.
After completing his military service at Fort Knox, he attended Western Kentucky University in Bowling Green, where he received a degree in finance. He completed a Master of Public Administration with a concentration in nonprofit management from the University of Nebraska at Omaha. In 2016, Marshall completed an Executive Leadership Certification at Georgetown University in Washington D.C.
Panel Discussion 1

Faith Weekly, Facilitator
Community Development Advisor – Neighborhoods and Housing
Institute for Economic Equity
Federal Reserve Bank of St. Louis – Louisville Branch
Faith Weekly is a Community Development Advisor – Neighborhoods and Housing and a member of the Community Based Policy & Analysis team in the Institute for Economic Equity at the Federal Reserve Bank of St. Louis. In this role Ms. Weekly works to advance comprehensive development efforts to revitalize distressed neighborhoods, stabilize low-and moderate- income communities and foster partnerships and connections that help neighborhoods thrive. While she is based in Louisville, her service area includes the entire 8th District – Arkansas and parts of Kentucky, Indiana, Illinois, Missouri, Tennessee and Mississippi. She serves on the board of directors of the following organizations: L-HOME, Metropolitan Housing Coalition, New Directions Housing Corp. and R.E.B.O.U.N.D. Prior to joining the Federal Reserve, Ms. Weekly was a CRA mortgage loan officer at Fifth Third Bank in Evansville, IN. She received her B.S. in Journalism from Northwestern University.
Mark Loya
Federal Home Loan Bank of Dallas
Mark is currently a Senior Affordable Housing Analyst for the Federal Home Loan Bank of Dallas (Bank) responsible for a portfolio of projects located throughout Arkansas, Louisiana, Mississippi, New Mexico and Texas. Mark assists with the development and implementation of the Bank's Affordable Housing Program (AHP). He is responsible for providing AHP technical assistance to member institutions, non-profit organizations and community/government leaders. He assists with the funding of the department's grant programs and maintaining the day-to-day operations and database system as it impacts the program. He also participates in evaluating applications for funding once a year analyzing the proposed projects, in part, for feasibility and a demonstration of need. Previously, Mark was the Development Manager for a non-profit in Dallas, Texas, where he was responsible primarily for the organization's single-family and multi-family projects and with the City of Dallas Housing Department as a Contract Compliance Administrator. He holds a Bachelor of Applied Arts and Science degree from the University of North Texas and a Master of Public Affairs degree from the University of Texas at Dallas.
Tiffany Hudson
Executive Director
Partner for Better Housing:
A native of Atlanta, Georgia, Tiffany relocated to NW Arkansas in late 2019. Tiffany holds a BA in English from Georgia Southern University and a Masters in Policy from American University. Tiffany has twenty years of residential real estate experience as a new construction builder and land developer. Prior to moving to Arkansas, Tiffany worked for the Atlanta Housing Authority on several large-scale innovative, mixed-income properties. In 2006, Tiffany built a nationally recognized, 40-bed homeless shelter in her hometown of Athens, Georgia and served on the board of the shelter for more than ten years. Tiffany was named by The Northwest Arkansas Business Journal as one of ten honorees for their 2021 Women in Business honorees program.
Wanda Merritt
Field Office Director
Little Rock Field Office, U.S. Department of Housing & Urban Development
Wanda C. Merritt has been the Field Office Director in the U.S. Department of Housing & Urban Development (HUD) Little Rock Office since January 2014. Previously, she served in the same capacity in the HUD Office in Lubbock, Texas. As the Field Office Director, she serves as the principal management official and HUD's liaison to elected representatives, state and local officials, Congressional representatives, and stakeholders. She is responsible for overseeing the delivery of HUD programs and services throughout the 75-county Arkansas jurisdiction.
With more than 30 years of experience in community & economic development and housing, Merritt joined HUD's Lubbock Field Office as a Community Builder in September 1998. Previously, she was the Community Development Administrator for the City of Abilene, Texas managing HUD's Community Development Block Grant and HOME Investment Partnerships Program. Merritt is a Federal Internal Coach and coaches federal and non-federal employees to meet their professional and personal goals. She completed the Executive Programs in Public Management, John F. Kennedy School of Government at Harvard University and earned an MBA and Bachelor of Business Administration Degree in Business Management from Angelo State University in San Angelo, Texas.
Panel Discussion 2

Gloria Reynolds, Facilitator
Community Affairs Specialist for Arkansas & Tennessee
FDIC Department of Depositor & Consumer Protection – Dallas Region
As Community Affairs Specialist for the FDIC's Dallas Region, Gloria Reynolds works with banks and communities to strengthen partnerships that benefit low- and moderate-income consumers and small businesses. Effective January 2019, she is assigned to Arkansas and Tennessee. For the previous six years, Ms. Reynolds was assigned to Oklahoma where she founded and coordinated the Alliance for Economic Inclusion for Northeastern Oklahoma. Working in the Division of Depositor and Consumer Protection, she interacts with community-based organizations, businesses, bankers and the public to bring greater understanding of and compliance with the CRA and the fair lending laws, and to promote financial literacy.
Ms. Reynolds banking career spanned twenty-eight years during which she directed securities and consumer compliance and coordinated the bank's Community Reinvestment Act program at the local, state and national level. In her final role as a banker, Ms. Reynolds was Director of Strategic National Alliances and Programs with responsibility for creating and strengthening relationships with large regional and national nonprofit partners. Ms. Reynolds earned a B.A. with Honors from the University of Texas at Austin. She is a member of the Texas State Bar having earned her J.D. from Southern Methodist University School of Law.
Darryl Swinton
Executive Director, Housing, Weatherization, and Economic Development
Better Community Development, Inc.
Darryl D. Swinton, Sr. serves as the Executive Director of Housing, Weatherization & Economic Development for Better Community Development Inc. In this capacity, Mr. Swinton is responsible of all aspects of affordable housing, weatherization and economic development for the Community Housing Development Organizations (CHDO) certification status and neighborhood reinvestment initiatives.
He also serves as President/Owner of Diamond Legacy Group, LLC. a licensed General Contractor and Realtor. Mr. Swinton also provides bid inspection on residential and commercial properties as well as new construction and rehabilitation. In this capacity, Swinton has researched, purchased, constructed and developed over 200 units of income-producing properties both Single Family and Multi-Family Housing units in hard to serve communities.
Currently he serves on the Board of Directors of Southern Bancorp Bank. He has served on the Board of Directors of the Federal Home Loan Bank of Dallas. He also served as Chairperson of the Federal Home Loan Bank of Dallas Advisory Council, Vice-Chair of Housing Arkansas, former Chairperson of Community Housing Advisory Board for the City of Little Rock and a host of other Boards and Commission.
Mr. Swinton holds a MBA in finance from Webster University and a BBA in business finance from the University of Central Arkansas. He is a member of Kappa Alpha Psi, Inc. and resides in Little Rock with his wife Karen and two kids Darryl Jr. and Taylor.
Michael Carroll
Lending Director
Rural LISC
Michael Carroll joined Rural LISC in September 2018. He leads national lending programs for LISC's 145 rural local partners and other community development organizations across 49 states.  LISC offers a full suite of lending products for affordable housing, community facilities and economic development.  He has over 40 years of experience in the lending and community development.  He has held senior positions at Bank of America, Fannie Mae, Rural Community Assistance Corporation, California Department of Housing and Community Development and the California Housing Finance Agency. He is on the board of directors of NeighborWorks Capital, California Coalition for Rural Housing and the National Rural Housing Coalition.  He is a founding member of the California Coalition for Community Investment, a network of Community Development Financial Institutions.
Wendy Von Kanel
President, Central Region
Southern Bancorp
As Southern Bancorp's Central Region President based in Helena-West Helena, Ark., Wendy Von Kanel oversees the community development bank's operations across 12 markets and 17 branches in Arkansas and Mississippi. A Phillips County native, Von Kanel joined Southern Bancorp in 1998 as a mortgage loan processor, rising to Market President in 2018 and Regional President in 2019.
For more information, contact ACHANGE at info@achange.org.
The event is free but is limited. Prior to the event, each registered participant will receive an email containing the ZOOM link to the event.

For additional information, please contact info@achange.org.